My word, who knew?
Take the quiz: "Which American City Are You?"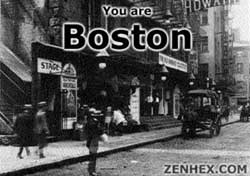 Boston
You are under-​world power and old-​world tra­di­tion. You get the job done and it's bet­ter if nobody asks how.
Today we went to OSH to get some new pots for the herbs, so we bought more herbs. Chives! Shallots!!! Flat-​leaf pars­ley!!!!! I actu­ally had to buy a new bag of pot­ting mix. Exciting? Oh yes. Now we're watch­ing "Smackdown" and drink­ing. This is the life, baby.